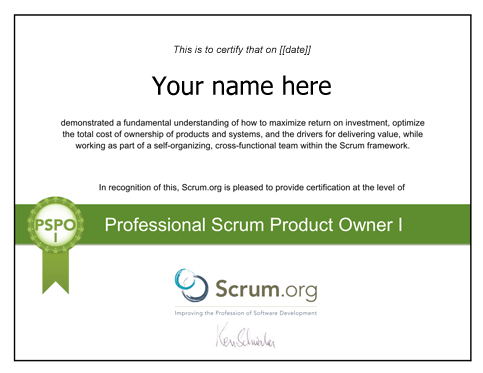 Let's have a quick review first:
Provider: scrum.org
Number of questions: 80
Duration: 1 hour
Type of questions: multiple choice (with one or more correct answers) and true/false
Passing Score: 85% (yes, it's really high)
Open book: yes
Price: $200
Prerequisite: none
Needs renewal: no
Now let's have a closer look…
Is the PSPO I certification worth investing?
This is not as popular as the PSM I certification, but if you're focused on product ownership (e.g., you're a business analyst planning to start working in Scrum projects), it's a very good choice. It's a credible certification, and combined with its relatively low cost, makes it a high-value choice.
I suggest you study for and pass the PSM I exam first, because that covers about 75% of the questions in the PSPO I exam. In other words, if you can pass the PSPO I exam, you can pass the PSM I exam too; so, why not?
Pros of the PSPO I exam
Questions are really high quality, unlike some other exams where, for example, with questions that don't make real sense, or don't have any completely correct answer to choose from.
It's not as expensive as most other certifications: you don't have to take accredited courses, and self-study is accepted. Overall, it can be one of the least expensive certifications you can aim for -if cost is an important factor for you.
You learn something really valuable when you try to pass this exam, unlike some other certifications that only force you to memorize a large bunch of unrelated topics.
Cons of the PSPO I exam
It's hard to pass; 85% passing score is really high.
There's no single resource that covers 100% of the things you need to know for the exam. So, you'll have to study many books, and still, you won't be sure if you know everything.
There are not many eLearning courses dedicated to this exam.
How to prepare for and pass the PSPO I exam
Study for, and pass the PSM I exam. If you're not going to take the PSM I exam (for any reason), still follow the steps described in the PSM Certification Guide before proceeding.
Check out the recommended books for PSPO I exam in the Scrum.org website. You don't have to read all of them; just pick a few that are most interesting to you. My favorites are:

Scrum Product Ownership
Agile Product Management with Scrum
The Lean Startup
User Stories Applied
Agile Estimating and Planning

(optional) Use an eLearning course about the PSPO I exam. Some people prefer to use eLearning courses; be careful to use one that is compatible with PSPO I, if you're planning to.
Take the Product Owner Open assessment from Scrum.org. Check all your wrong answers with the Scrum Guide and Scrum.org Forums, and try to understand the concept instead of memorizing them. If you can't find the information you're looking for, ask about it in the forums; there are many helpful people there. Repeat the assessment multiple times until you're familiar with all the questions; some of those questions appear in the actual exam as well.
(optional) Use third-party sample exams such as Management Plaza's PSPO exam simulaor. Be sure that the sample exam is designed for the PSPO I exam.
Tips and tricks for passing the PSPO I exam
Check out the PSM Certification Guide for the tips and tricks. They apply here as well.
Alternative Certifications
CSM, far more expensive, much easier to pass
ASF, covers more generic aspects of Agile besides Scrum, a little more expensive, easier to pass
PMI-ACP, covers more generic aspects of Agile besides Scrum, far more expensive
AgilePM, focused on the Atern methodology instead of Scrum, far more expensive
PRINCE2 Agile, covers more generic aspects of Agile besides Scrum, far more expensive